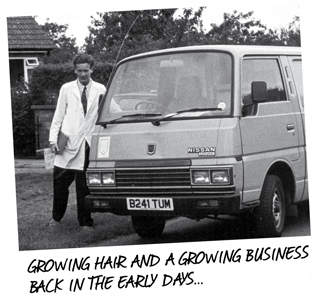 It was 1989, the year of the Youth Enterprise and 'getting on your bike and looking for work'. Andrew Moorcroft returned from a gap year abroad and saw an advert on television for the Princes Trust Youth Enterprise Programme. He took the opportunity to apply and after gaining the award entered the world of seafood. Andrew steadily grew his hair and his business over the coming years, focusing on both wholsale and retail trade. As he learnt his craft, he was often asked to comment on the growing concerns regarding food safety and sustainability.
Following an incredible growth in sales, Moorcroft Seafoods were pleased to announce the addition of Karen Darwood to the sales team. Karen Darwood is the daughter of legendary Grimsby fish Merchant Tom Darwood. Karen worked in the sales department at Five Star Fish and Eagle Seafoods. "I've known Andrew for about 20 years now and have watched his business grow to where the company is now. When they asked me to join the team, I just couldn't resist! It's the first time I've sold to the end users rather than other seafood companies".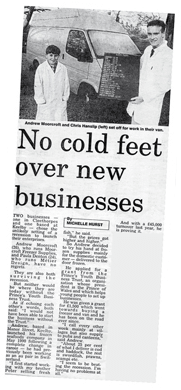 In August 2009, Andrew purchased the locally well known and respected 'Something Special Seafoods' from Mike Crooks and Bill Masterson. By September 2010, Moorcroft Seafoods had a fleet of vehicles servicing the regions' businesses with their quality seafood products, that offer their customer excellent value for money, a good return and very satisfied repeat customers to their business establishments.

Call us today 01472 485773
Email sales@moorcroft-seafoods.co.uk